Skip to Content
Our Bath Services in Boston, MA
Bath Upgrade & Transformation Specialists
What kind of makeover does your bathroom need? From shower bases and door upgrades to complete bathroom transformations, Bay State Bath by Jennifer Bylo delivers gorgeous bath renovations throughout New England that add value to your home and will put a smile on your face. We stand behind all our work by offering labor and product warranties for your protection. Ready to learn about the amazing changes we can bring to your bathroom? Browse our services below and contact us today to schedule a free consultation.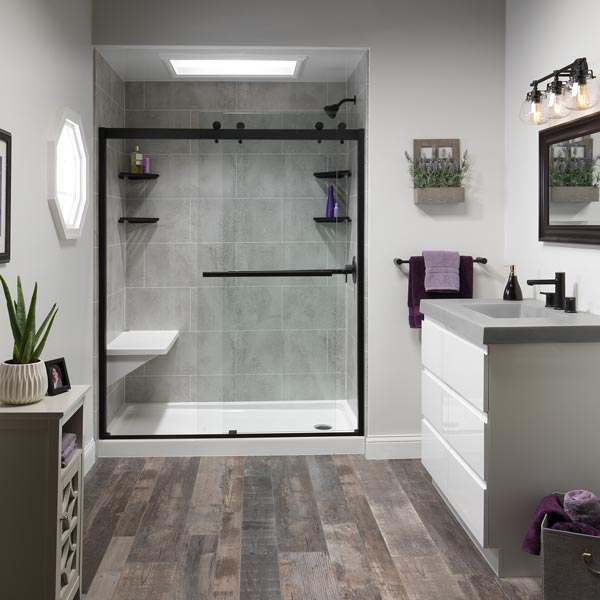 Home of the ONE-DAY BATH REMODEL
We bring convenience and a stress-free project to your home with our ONE-DAY BATH RENOVATIONS. With two decades of experience in bath remodeling, our team has the knowledge, tools, and expertise to upgrade your bathroom and leave you to enjoy it the very next day.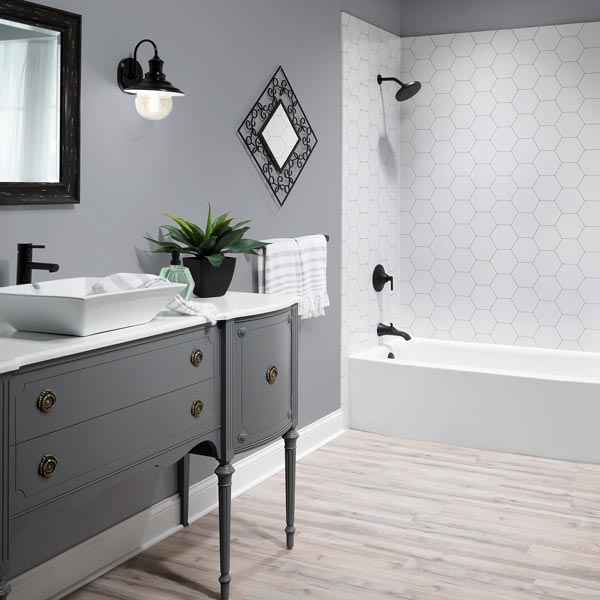 FIVE-DAY TOTAL BATH TRANSFORMATION
For those who want to fully reimagine their bath with their ideal vision, our FIVE-DAY TOTAL BATH TRANSFORMATION delivers a complete renovation without managing a project that drags on for weeks. You'll receive a completely renovated bathroom backed by our labor and product warranty guarantees.
Bathroom Updates to Age in Place
Remaining at home for as long as possible is important for everyone as they age and those managing a disability. Updating and renovating the bathroom makes this possible by adding safety features and functional fixtures to this busy part of the home. We'll discuss design and product options to make living at home safer and ADA-compliant.
Shower Base & Door Upgrades
If you're happy with the layout of your bathroom but have an unsightly tub or shower that transports you back to another life, we have a fast and easy solution. Our professional installation crew can install our custom-manufactured shower bases IN JUST ONE DAY, ready to be used the very next day.
Bathroom Wall Surrounds
Like a fresh coat of paint in the living room, a new bath wall surround is a fast and easy way to bring a more modern and cleaner look to your bath without requiring major upgrades. New technology means you can benefit from a renovated look that is easier to maintain and keep clean, which benefits the entire space.
Add Wainscoting for Additional Style
Looking for a way to spice up your bath with a traditional look that's always in style? Wainscoting adds depth and dimension by delivering textured décor from the baseboard to a chair rail about midway up the wall. This is an investment that delivers a significant improvement for your bathroom.
Replacement Tubs for Relaxation
We replace bathtubs because tub liners are ineffective if you're looking for lasting results. We can replace tubs quickly, and with this process, we can offer warranties on our labor and products to ensure everything performs to your expectations.
Tubs & Shower Conversions
Walk-in showers are becoming preferred over traditional bathtubs for homeowners. Replacing your outdated tub with a modern shower will make your bathroom feel more spacious while increasing the value and appeal of your property. The best part? We can complete this In Just One Day®!
Schedule Your Free Bath Remodel Consultation
You have nothing to lose by scheduling a free consultation for bathroom remodeling services by Bay State Bath by Jennifer Bylo. Our designer will listen to what you like and dislike about your current bath, discuss your ideal setup, and review our service options to find the one that meets your goals and timeline and stays within your budget. Contact us today to schedule your free consultation.
Schedule Your Free Estimate Today